The best dynamometer on the market
eRig
Maximum

Testing Accuracy

on State-of-the-art Test Rigs
A new level of performance measurements on Pedelecs – eRig determines the performance of electrically power assisted bicycles with unprecedented precision.

A new level of performance measurements on pedelecs
A total of three high-precision torque transducers guarantee maximum measuring accuracy. Velocity, torque and power output can be determined on cranks as well as on front wheel and rear wheel. Measuring inaccuracy is reduced to an absolute minimum. eRig provides reliable test results based on tried and tested technology in accordance with the latest industrial standards.
Suitable for all kinds of motor systems
All types of electric drive systems, whether front hub, rear hub or centre motors, Even Pedelecs equiped simultaneously with several motors can be tested on the eRig All types of single-track bicycles can be run on the eRig with its adjustable wheelbase of 60 to 190 cm. No matter whether it be an electric mountain, cargo or compact bike We can simulate numerous operating conditions up to complete load cycles by means of our specially developed cutting-edge control. Comparison with on-road measurements has so far shown extremely close correspondence with simulation on the eRig.
Two independent temperature sensors plus high-precision ammeters and voltmeters can determine additional parameters of the Pedelec in the course of the entire test. Sophisticated mechanics allow test speeds up to 50 km/h (31 mph), so that even Speed-Pedelecs can be tested on the eRig.
The eRig will assist you with
the development of brand new motor systems
meticulous comparison with its predecessor model
comparison of your pedelecs with those of your competitors under scientific and laboratory conditions
comparison between a variety of different motors and ranges
the presentation of reliable results
Like to find out more about our eRig?
contact us
call us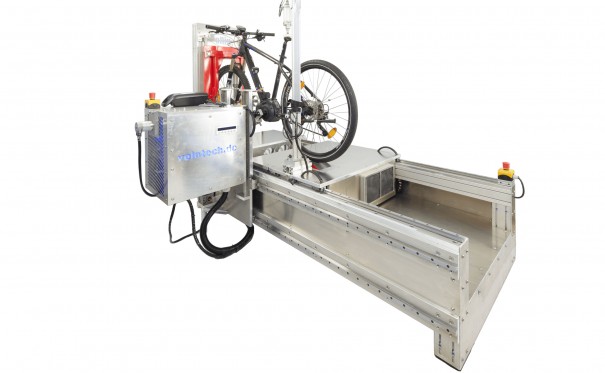 All relevant performance measurements as laid down in EN 15194
Testing of all operating conditions of your Pedelec / S-Pedelec
Performance and efficiency measurements
Range tests based on individual cycles
Testing thermal stability of the electric motor
Testing energy recuperation of motors
Various crank simulation modes from smooth circular action to riding out of saddle
Test speeds up to 50 km/h (31 mph)
Applied power on crank, front or rear wheel of up to 1500 W respectively
Pedal cadences of up to 180 rpm
Wheelbases from 60 to 210 cm (24 to 83 inches approximately)